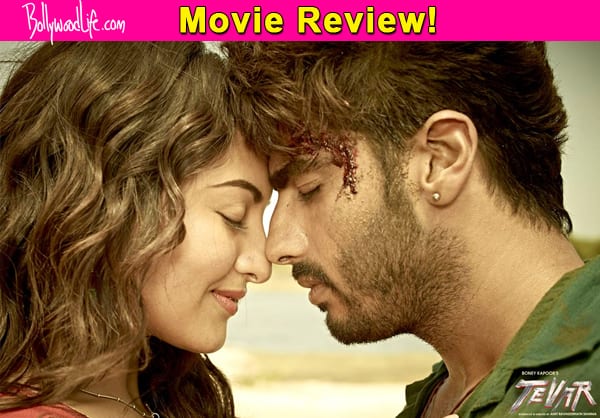 A lot has been written about Arjun and Sona's off screen chemistry and how the two are apparently in a relationship. While they make a cute couple in real life, have they packed a solid punch together onscreen with their film Tevar ? Read the full review of Tevar and find out yourself.
What's it about
Arjun Kapoor (Pintu Shukla) is a Kabbadi champion who hails from Agra and believes he is no less than Rambo, Terminator and of course Salman Khan. Whenever a girl or a woman is being harassed, Pintu enters the picture like a knight in shining armour and rescues the damsel-in-distress. That's how Sonakshi Sinha (Radhika) meets Arjun. Manoj Bajpayee (Gajendra Singh) is a corrupt politician who is head-over-heels in love with Radhika the moment he lays eyes on her. This one-sided love story starts while the Radhika shows off her moves on Radha Nachegi song at a cultural event. The very next day Gajendra Singh ends up proposing Radhika and asks her to marry him. But the latter refuses and that's when the story takes off. Pintu comes to Radhika's rescue and the two are on the run thereafter. Do Pintu and Radhika manage to escape from Gajendra Singh and his army of goons? Or does the Kabbadi champion lose his life while saving his ladylove? Well, watch the film to find to out but we are pretty sure it's not rocket scienece to figure out the rest of the story!
What's hot
It certainly has to be
Arjun Kapoor
and his dumdaar performance. We have seen Boney Kapoor's ladla beta doing action on the big screen before as well but this time he reminded me of his mentor Salman Khan. He is a one man army who can take as many as 10 goons at a time. And what's commendable is that he makes it look believable. Apart from all the dhishoom-dhishoom, Arjun is also good with his comic timing. Though the story of Tevar is predictable, the Kapoor lad makes the ride enjoyable with his act. After Tevar, I think it's safe to say that AK can now carry a film solely on his shoulders.
Sonakshi Sinha is back to playing the girl-next-door character in this flick and she is decent throughout. But Sona's co-star clearly outshines her and therefore there is nothing much to boast about the leading lady of Tevar. Manoj Bajpayee and Raj Babbar also star in the film and they play their parts well. Personally, I think Bajpayee surely has mastered the art of playing dark characters. Yes, he has been playing villainous roles too often but he is just good at it. Music wise,
Superman
and Joganiya stand out. As for Radha Nachegi, well, it's a good number but it won't make you go WOW.
What's not
As I said in my quick review, Sanjay Kapoor's production venture has nothing new to offer as far as story is concerned. This film is like an old wine packaged in new bottle. A corrupt politician falls in love with a girl and will go to any extent to marry her. The girl falls for the guy who is doing everything he can to save her from the bad politician. It's the same old tried and tested formula. Also, in the second half the makers could have done away with few things and made the film shorter. Lastly, Arjun and Sonakshi's pairing is pleasant but I didn't find their chemistry oh-so-sizzling. That could be because the two are always on the run. However, the makers could have explored their chemistry in a better way as they share amazing rapport off screen too and that would have translated on 70mm, hai na peeps?
Verdict:
Amit Sharma's Tevar
is the remake of Telugu blockbuster Okkadu. While the original got registers jingling down South, the Hindi version too isn't bad at all. It's a typical Bollywood masala film which has all the ingredients to entertain you -
naach-gaana
, romance, action and comedy! So if you're planning to watch Tevar this weekend, it wouldn't be a bad idea. And if you are a Arjun Kapoor fan then I think you shouldn't miss this one at least for him!
Rating:
out of 5